Client Testimonials
Testimonials
"Bob far exceeded our expectations in finding us a home yet again! This has been our second experience working with Bob and we are absolutely satisfied. He was very helpful and understanding! We recommend Bob to all of our friends and family."

ljchireno
100 Old Field Dr, Simpsonville, SC 29680
---
"Bob did a great job in communicating with us during the entire process. He was very responsive when we needed him and made sure the entire experience was as painless as possible."

ghanson54
110 Ravenwood Ln, Simpsonville, SC 29681
---
"Bob Schmidt is very professional. and pays attention to detail. He was quick to respond to my questions and is very knowledgeable of every step in the process."
Katherine H.
Mauldin, SC 29662
---
"Bob is a true professional. He is easy to work with and his honesty and responsiveness is truly appreciated. Bob made himself available every step of the way. When a conflict arose, he ensured that someone in the office was available."

zuser20140609134943682
Weatherstone Ln, Simpsonville, SC 29680
---
"Mr. Schmidt went above and beyond in helping me with this move. I am a first time seller and needed lots of reassurance. He was very patient and answered all my concerns"
gthigdon
Nottingham Rd, Clinton SC
---
"Bob Schmidt did a great job of presenting our house and land with expertise and thoughtfulness and artistry. It took a little patience on all our parts because of the size of the property and accordingly, the smaller market. He made great recommendations and was extremely helpful through the whole process. We are genuinely grateful and would highly recommend him to anyone."
R.Roddy
Terry Rd.Fountain Inn, SC
---
"Bob was there to help us through every step of the process selling our home. He went above and beyond the service levels I have experienced in the past when buying or selling a home. He was very responsive when we reached out with questions, recommendations for contractors, etc. We really appreciated the level of communication and service that was provided. We interviewed a few different listing agents prior to listing our home for sale and immediately felt comfortable with Bob and knew that we could trust him. He provided us sound advice regarding some things around the home that needed spruced up and which things we need not bother with doing. This was very helpful and allowed us to focus our time and resources to the most effective items. We had relocated so our home was vacant when we listed it for sale. Bob did an excellent job keeping us informed on activity and even checking on the house for us regularly. We received automated emails when showings were scheduled and also when seller agents provided feedback after showings were completed."
Loney
Simpsonville SC,29681
---
"Bob was very helpful. He did an excellent job explaining the process and telling us what we need to do. He is knowledgeable, honest. He worked very hard to sell our family home. Everything we ask him he was able to answer. I will use him again. I will give his name to my family and friends."
Patricia W
Greenville SC 29607
---
"Bob is an absolute pro and Amber his assistant is top notch. This is the team you should be working with if you're considering a realtor in Greenville South Carolina area. I've worked with them a number of times and would gladly do so again given the opportunity."
petravirgi
Landwood Ave, Greenville, SC 29607
---
"Bob was great to work with and made our first home buying experience easy and stress free. He is very responsive and willing to accommodate his client's schedule. Bob is also very thorough and a great negotiator. I would highly recommend him and his team to anyone looking to buy or sell a home."
mmcmillan09
Ashley Ave, Greenville, SC 29609
---
"We are so grateful to have worked with Bob. We are new homeowners, and new to Greenville. Bob patiently explained every step of the process, and helped us find a great neighborhood. He was flexible to meet us after our workday/weekends. Bob is organized, on time, honest, and extremely helpful. Thank you Bob!"

Ashley Ave, Greenville, SC 29609
---
"Bob was the best realtor I've ever worked with. He knows the local area extremely well, knows how to ask the right questions, and is extremely thorough with follow up. I would recommend him to anyone looking for a home in the Upstate."

Martele Ct, Simpsonville, SC 29680
---
"Bob's the best!!! Always one step ahead! Always available when you need him, on the phone and in person, and extremely thorough, with deadlines and contracts! He made everything easy to understand to people that don't understand. Would recommend him and his firm to anyone."
zuser20170321192736743 Greenville, SC 29609
---
"Mr. Schmidt is 100% committed to his clients. He is an excellent professional very helpful and honest. He is very knowledgeable about his work. I highly recommend Mr. Schmidt if someone is looking for an honest and professional realtor. He helped me to sell my house and the whole transaction was very smooth."

apcosta2014 Greenville SC, 29615
---
"Bob Schmidt is "top notch" in his field. I would highly recommend him to anyone. He is honest, kind, responsive, dedicated, and very professional. He is an asset to his organization."

margiers65
Sparrow Hawk Ct, Greer, SC 29650
---
"Bob was very helpful, detailed, and responsive. He made purchasing our first home as seemless as possible. Highly recommend him to anyone looking to purchase a home!"

courtney m
Foxcroft Rd, Greenville, SC 29615
---
"In my lifetime now I have bought and sold 11 houses. Bob is the best realtor I've ever worked with. He treats everyone exactly how he would like to be treated - fairly, honestly, and with tremendous insight into what is truly best for everyone - buyer and seller. If all realtors were even 50% as good as Bob, 99% of the stress of buying and selling one's home, would be eliminated. Selling my house through Bob, I am confident that I got 100% of the maximum that I should have, and that all settlement issues were handled perfectly fairly for both me and the buyer. The world needs more folks like him!"
zuser20160310074108685
Powderhorn Rd, Simpsonville, SC 29681

---
"It was seamless from start to finish. Enjoyed working with Bob. He sold property quickly and no complications. Kept us informed. We live out of state and this was no problem."
mccandlesskathyr
Fountain Inn, SC 29644
---
"I would highly recommend Bob! He went above and beyond to make selling our home a pleasant and seamless process. He is the consummate professional and a pleasure to work with. His marketing approach was top notch!
user8592602
Fountain Inn, SC 29644
---
"Bob was the beat realtor we ever worked with, very helpful, made our home buying experience a pleasure, would highly recommend to anyone looking to purchase or sell a home!"
dylanjslater
Simpsonville SC 29680
---
"Bob was a great person to work with and I would recommend him to anyone selling or buying a home. He is very knowledgeable in home sales and selling. Bob was on call 24 hours a day. We could ask him about everything regarding the sell of our home. He said that our home would sell fast and it did."
vickirthompson
Mt. Pleasant SC 29464
---
"Bob Schmidt did a fantastic job pricing and selling my mother's home. She had passed away and I had come in from out of town. He gave expert advice on how to stage the property and priced it perfectly, giving us the maximum profit for the property, while still having it sell within a couple of days after listing. I believe much of the quick sale had to do with Bob hiring an expert photographer to showcase my mother's home beautifully and professionally as well as creating an expert marketing package for the property. On top of all that, Bob is a likable, easy to work with, thorough and an honest realtor. You will be lucky to have Bob represent you and your home."
tanous
Greenville, SC 29615
---
"Bob has been with us on two home sales/purchases and he has always guided us to great success. Bob has a great understanding of the market and knows how to adjust for it. I have recommended him to many prospective clients over the years."

tinsleyri
Simpsonville, SC 29681
---
"Bob was awesome to work with. He knew the area extremely well! He spent time with us asking about us, getting to know us to find out what we were looking for. He went above and beyond working with us to find our home. He is extremely personable. He was patient with us and helped us through the entire process. He is not only a great realtor but a great person. We relocated here from another state and he worked with us throughout the entire process. I would recommend him to anyone and will use him again without any hesitation. A+++"
aaronrobin
Simpsonville, SC 29680
---
"Bob definitely went above and beyond his job. 5 stars really isn't enough to give it to him. We found Bob online just like the way we search for good restaurants. Bob was ranked number 1 with all the good positive reviews.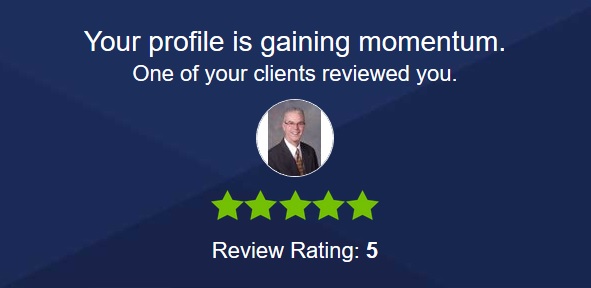 Bob's excellence is really solid and consistent. As first time land seller, we really couldn't be happier that we found Bob. Following are the things that I think Bob has been consistently exceeded: 1. Expertise-we all know that the quickest way to know a person's level of knowledge is by asking tons of questions (I didn't do it on purpose. It's just what first home sellers do and me being myself). I couldn't recall the specific questions that I've asked Bob but I was very impressed every time when I got the response from Bob. His expertise and timely response makes him really reliable. 2. Timely communication – Bob has so many clients at hands but I was amazed by how he was still able to respond to my emails and phone calls in a very timely manner. It's not just about the deliver on time; it's the accuracy of his response and the knowledge he has that really makes the whole home selling process smooth. 3. Care – this is where I really think Bob went above and beyond. I was station overseas and Bob make sure everything with the selling of the property went smoothly and that I was inform in a timely manner. It just the small things that matter the most to me and Bob always was there to handle those things. Bob has been following up the whole time! If we are rich enough to purchase a second house, Bob will definitely be our first choice! Thank you Bob!"
Verna F
Piedmont, SC
---
"Bob was very helpful in every aspect of selling my town home. Any time I called or texted him, he would answer immediately or let me know when he would be able to get back with me and he did so. He is very professional in his appearance, promptness and handling of all details. His assistant Amber was great also. I absolutely recommend Bob for any real estate need."
caroleva
Simpsonville, SC 29681
"At first meeting, Bob showed me all the tools that he had available to make sure my home was well represented. He answered my questions easily or got back to me quickly with the answers. He kept me updated and was very easy to get a call back from. My house sold in 2 days! Can't ask for better than that!"
smelton11
Mauldin, SC
Zillow Group User
---
"Bob was great! He sold our home in nine days during the holiday season and we had a very quick closing. I am happy to have listed our home with him. He is very honest and attentive."
zuser20150919073404681
Simpsonville, SC 29680
Zillow Group User
---
"Bob Schmidt may have been the luckiest choice I could have made for a buyer's agent. As a buyer's agent, Bob is extremely willing to coordinate all activities to help the buyer find the home they are dreaming about. Bob had to do more than his share of showing me homes since I am very particular about things. Throughout the entire process, Bob remained very responsive to my requests, often returning my calls and texts with a half hour or less, including responding to late evening questions. Expect Bob to do the same for you. He treats all of his clients in this manner. I referred a new co-worker to him and she closed this past week. She also had an excellent experience with Bob. I can say without much pause that I am one of the pickiest people when it comes to customer service, and Bob exceeded my expectations! If only I could get that kind of service in all of my other business transactions!"
cgoetzin
Easley, SC 29642
---
"He is prompt and efficient. He always seems to give 100% of his time and effort." Jim and Kathy B.
---

"Very knowledgeable, made process easy." Allison R.
---
"Hi Bob, I wanted to thank you for all of your assistance with finding our home! We moved last week, and my mother joined us over the weekend! We're thrilled to finally be here. We are in contract on our NY home, with a potential closing date of 8/15. There is NO comparison to the service you provided for us! I just wanted you to know how much we appreciated your hard work, finding us our dream home. Thank you!" Gwen R.
---
Sent to Corporate Relocation Team ...

"I just wanted to take a quick minute to tell you Bob Schmidt is WONDERFUL!!!!! I wish more of the agents I work with in Relocation were like him. I would like to clone him and put him in all the markets Halliburton has transferees. His performance is even more amazing since this is the first Halliburton relocation he has handled. I sold residential real estate for 14 years before coming to Halliburton so I know and appreciate agents like Bob. This can be a thankless job sometimes. I just wanted to take the time to tell you how amazing Bob is and how much I appreciate him.
Regards, "
Cathy H.
---
"Bob Schmidt is the best realtor we work with. He is very knowledgeable, helpful and always very punctual. We had great communication throughout the entire process. We sold our home very quickly. We high recommend Bob Schmidt. He is very professional. We would definitely use him again in future, if needed. "
Carl and Irina M.

---
"Very Knowledgeable, personal, pleasant, always gave us up-to-date information." Rita and Ed F.
---
"Dear Bob, Thank you for all your devoted attention to selling my house. As I mentioned, it was the last of 4 rental homes I had, all out of state. You were by far, the most helpful and confidence inspiring, where the distance is a handicap. Not to you! With appreciation..." Don.
---
"Extremely knowledgeable, very helpful, talked us through the entire process of selling our house! Will definitely refer friends to him."
Barry and Sharon S.
---